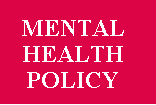 Mind responds to Dobson's Announcements
Margaret Pedler, Head of Legal & Policy Development
(OpenMind 1998, 93, 4)
The Government finally made their long-awaited announcement on mental health policy on 29 July. One of the key points was a review of the Mental Health Act 1983. As a first step the Health Secretary is appointing a small group of experts to advise him 'on the areas of the current legislation which need to be revised or supplemented to support effective, modern mental health services'. He has specifically asked for this advice to cover compliance and community treatment orders.
Mind, which has serious reservations about the extension of compulsory powers, hopes to be part of the group, due to report to ministers in spring 1999.
The Government also announced a national service framework for mental health, covering both health and social care and providing guidance on the level and balance of services needed in each locality. They have already indicated that they expect services to include more acute beds, assertive outreach, 24-hour crisis services and specialist secure units in each NHS region.
Consultation on emerging findings will take place over the autumn with a view to having a final document published by 31 March 1999. Finally, additional resources for mental health are promised, details of which are to be announced in October.
Mind sees real cause for hope in many aspects of the announcement. However we are concerned at ministers' repeated statements that 'community care has failed'. This ignores the fact that for many thousands of people the switch to community services has brought, and continues to bring, enormous benefits. It also risks increasing the discrimination and stigma faced by this group of people in their everyday lives.