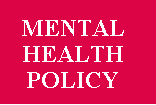 Reprinted from OpenMind (1998), 93, 6
THE VISION THING
David Crepaz-Keay
Dobson's Choice
The new mantra that underlies current mental health policy is 'Care in the community has failed'. This has been repeated by ministers so often that we can be sure they want us to think they mean it. Community care is dead, long live ... what?
One of the things Secretary of State for Health Frank Dobson has promised is more counselling in health centres. And to prove that the people's Health Secretary is keen to use these new services, he has set up his own self-help and support group for distressed Mental Health Folk, also known as the External Reference Group (ERG). Mr Dobson is, by his own account, a man who has visions; a subset of these were shared with his self-help group while his psychiatrist, Prof. Graham Thornicroft, listened patiently.
There is much evidence that some forms of psychosis can be induced by brainwashing. In Westminster, there are an increasing number of people who belong to a new cult called 'The Third Way'. Run in Islington by a sinister ex-lawyer, The Third Way is the first cult to believe in absolutely nothing at all.
They have clearly got to Mr Dobson, who was heard to mutter the cult's name several times. They may also be responsible for some of his visions, containing as they did, some of the cult's other codewords: new visions, visions of partnership, and visions about social exclusion.
All Change
Mr Dobson's quest, for 'some better way between either total loss of freedom in an institution or being in the community with precious few ways of ensuring sufficient compliance with a treatment programme', is as perceptive as it is original. Those words were spoken not by the current Secretary of State (though his were remarkably similar), but by Virginia Bottomley, a previous incumbent, when giving evidence to the House of Commons Health Select Committee for its report on Community Supervision Orders (CSOs) back in 1993....
At the time, there was great public concern about the Care in the Community policy following a number of high-profile cases (sound familiar?). The Committee recommended against CSOs, so the Government of the day introduced Supervision Registers and Aftercare with Supervision instead.
Five years on, little has changed. There is no evidence to suggest that homicides committed by people released from hospital have either fallen with the increased coercion, or increased with the continued closure of long-stay hospitals.
So what's new in this Third Way? Apart from the promise of an increase in counselling, there are some things that may actually help. A twenty-four hour crisis helpline may be useful - but not if it just tells people to keep taking their tablets. Improved training for general practitioners (GPs), again, will only help if it can get beyond the keep-taking-the-tablets stage. In fact, for any of the familiar words to amount to any real change, Messrs Dobson and Boateng will have to ease the psychiatric profession away from its chronic drug dependency.
And So To Bed
Until services become attractive to those who need them, we are left with 'assertive outreach' (which some are calling the third reich in mental health), more acute beds, and, of course, a review of the 1983 Mental Health Act.
With the possible exception of assertive outreach, the review of legislation is the least unexpected part of the announcement. I shall resist the temptation to rehearse my views on the 1983 Act's successor (see OM86 - 'A mental health manifesto'). The Government's refutation of the spectre of 'distressed patients being held down against their will and forcibly injected over their own kitchen tables' leaves several serious questions unanswered. Will staff have to take people into their bedrooms or bathrooms? Or will they simply wrestle people to the floor, thus obviating the need for furniture of any kind? If the Secretary of State for Health finds unacceptable the image of 'distressed patients being held down against their will and forcibly injected over their own kitchen tables', how long is he prepared to tolerate the barbaric practices in his hospitals, clinics, hostels and GPs' surgeries?
Mixed Messages
People will remember that Virginia Bottomley was an anagram of I'm an evil Tory bigot; we now realise that Frank Dobson has her daft knobs on.